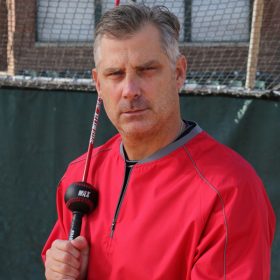 "The Speed Hitter MAX Softball takes working on your game to another level! Not only do you get the same consistent reminders about the right direction of your swing path through the sliding ball of the Speed Hitter MAX Softball, but now you get the added bonus of working with the Speed Hitter MAX Softball that has the a similar weight as your own bat. You'll be able to work on the feel and direction of the barrel as well as creating consistency through swinging the weighted shaft of the Speed Hitter MAX Softball. You'll be shocked by the immediate results you'll gain at home plate!"   – Derek Shelton, MLB Hitting Coach
If you take a swing where your swing is long and you cast the barrel of the bat you'll immediately know by what you see, feel, and hear that you've made a bad swing.
The Speed Hitter MAX Softball is its own coach and you'll be able to intuitively make the corrections in your swing based on where the ball contacts the end of the bat for dramatically improved hitting.
Simply slide the O-ring on the shaft pushing the ball to the end of the bat to use the Speed Hitter to work on increasing your bat speed. By simply taking 6 high speed swings with the Speed Hitter you'll begin increasing your bat speed by activating your fast twitch muscle fibers. Swing the Speed Hitter on a daily basis in this way to continue to increase your bat speed for greater bat speed at home plate.